If you have any inquiries, please feel free to contact us.
email: nyamamoto@alae-japan.com
TEL: +81-3-6689-7177
Strong water resistant
TATTOO COVER AQUA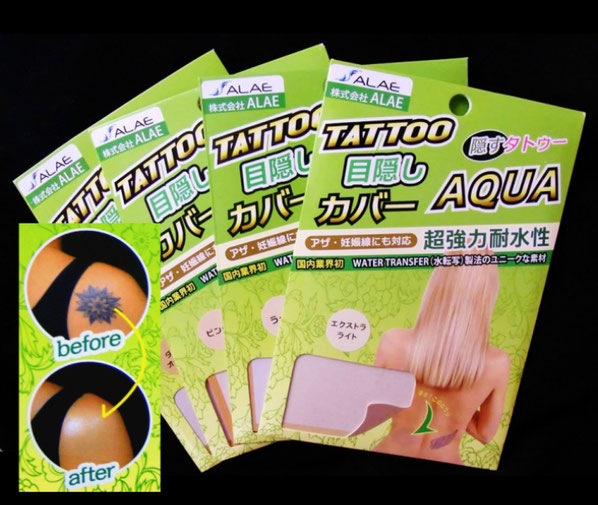 Size: 10cm×15cm
Content QTY: 10pcs
Tattoos are strictly prohibited in some public facilities in Japan.
Facilities and services banning individuals with tattoos.
l  Hot spring
l  Spa, Sauna
l  Swimming pool
l  Sports gym
It does not stain outfit like make ups DO!
It does not peel off like stickers Do!

Enjoy your activities in hot springs, spas, swimming pools, sports gyms without worrying about your tattoos or your tattoos uncovered by sweat and water!!
Most of the above facilities have the regulation or a sign indicating no admission of people with tattoos.
In some cases, you'll be asked to leave the premises upon showing your tattoos.
 It is believed that the tattoos are strictly prohibited in some public facilities in Japan, because tattoos impose a threat and cause an unpleasant experience to those who are not covered in tattoos.
Tattoo cover AQUA can be used to avoid such conflict especially in formal events such as business meetings, public appearances, weddings and funerals. 
Tattoo cover AQUA will be handy for those quests from overseas, unaware of the tattoo prohibition in Japan!
How to use Tattoo cover AQUA
1. Cut tattoo cover AQUA to fit the size of your tattoo.
2. Peel off the clear film.
3. Apply on your skin.
4. Press a wet towel over the back paper 
   or wet the back paper thoroughly and press with your hand.
5.Peel off the back paper.
COMPLETED!
*If your tattoo is still visible through a tattoo cover AQUA,
let it dry, then apply another tattoo cover AQUA on the first one.
Color Variation
4 colors 
10 sheets in a package
Extra Light
Light 
Pink
Dark Ochre 
Customize your skin color
How to remove tattoo cover AQUA
After bathing, scratch it off gently with a hand or towel.
Tattoo cover AQUA remover (30ml) is also available for a purchase. 
※Disable an international shipping.
Alternatively, you can also use the alcohol  for disinfection to remove the tattoo cover AQUA.
※We shall not be responsible for any damages and troubles on your skin.
For international shipping, please ensure to choose  "shipping to international \980".
Free shipping "mail bin" is only available in Japan. 
Tattoo cover Pro/AQUA  works as base sheet for air brush make up.
The amount of ink and operation time will be 1/3.
How to use
1. Apply tattoo cover Pro/AQUA.
2. Apply air brush make up on tattoo cover Pro/AQUA.
Tattoo cover PRO 【1layer or 2layer】
This is for professional use.
only extra light is available.
※2layer is double thickness of 1layer. suitable for bumpy tattoos.
Tattoo cover PRO is 6times bigger than Tattoo cover AQUA.
 Size: 24.5cm×30cm
without two fringes, 24cm×28.5cm
Tattoo cover seal
It completely hides tattoos.
It is easy to use or remove as stickers.
strong water resistant.
Recommendation!
We ship to hotels you will stay in Japan
Please indicate your check in date and the guest name on remarks.
*Free domestic delivery (Japan)*
DM mail (dropped into the mailbox)
Delivery by hand (available only in Japan) 550JPN
We ship international
International shipping fee 980JPN.
---------------------------------------------------------------------------------------- 
Only Paypal payment is available for international shipping. 
※Please note that we shall not be responsible for any damages on your skin
also for any trouble with facilities.